Bad Noose Independent Press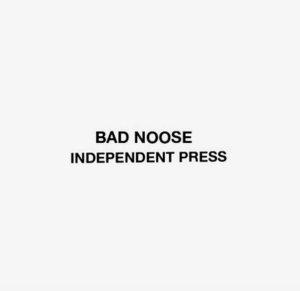 There is a god damn smorgasbord of good people doing great things in P-City and we want to help spread the word.
This week, we'd like you to meet Colby from
Bad Noose
…
What is the history of Bad Noose? Who's Involved?
Bad Noose Independent Press is a local music brand pushing regular gigs, label releases and a blog featuring various things we dig and think the Perth community should know about. We started it almost a year ago now. Myself and Layton Webber, one of the editors of the Pilerats blog started it up together.
What sort of music are you centred around?
We're equally involved in Perth's heavy/punk and indie/rock scenes, and have also brought out a few east coast bands and internationals to play in our city. Most recently those have included Birds in Row from France, Shackles and Legions from over east, and Perth's very own Miles Away to name a few.
Why did you start BN and what was the idea behind its creation?
We think Perth has one of the most talented and simultaneously underrated music scenes in the world. We go to HEAPS of gigs and couldn't help but notice the raft segregation between local scenes… So we decided to start booking gigs to bring the best bands from those various Perth worlds together, and hopefully build a community out of it as we go.
How have you made the label work?
I guess by offering something a bit more diverse and original to the highly oversaturated styles of events that cross various genres in Perth.. it's been great to watch crowds increase just by doing something that little bit different to the cut n paste gig! It goes without saying that the knowledge Layton has gained from working in the club events world has helped push the brand in leaps and bounds as far as promotion strategy, too.
How does running a label/webzine help your local scene?
Having people around that go out of their way to do these kinda things is a crucial thing in local DIY music. Scenes die when folks don't do what they can to give back and contribute to the very thing they're passionate about, even if it's just going to gigs every week. Pushing releases and a blog is definitely important in keeping things relevant.
With more music more accessible than ever, what is the value in keeping a label niche?
The value is in creating new demand in a world of oversupply these days. Trends start and die by the week as the internet makes musical – sensory overload a very real thing. If you keep your particular musical niche in sight, don't sway to trends and remain genuine; attention builds eventually…
Big lessons?
The evolution of Bad Noose from previous ventures has been the lesson in itself I think.. from when I first started booking tours (and losing money) under Infamous Events when I was 18, to the first record label I started with another friend called Hindsight Records.. both have been massive learning curves and you can only really go through those from just jumping right in and seeing how quickly shit can hit the fan. The same can be said for Layton in being involved with Pilerats since its inception, and this experience has really helped us in getting Bad Noose to where it is now.
Highlights?
Highlight has been booking a gig for our mutual favourite local band of many years, Miles Away, and selling amps out for one hell of a show with them earlier in the year! I counted 276 stage dives in a half hour set on the livestream video later on, haha. So wild.
What's coming up in the Bad Noose world?
We've had some big things planned for a while and we've finally seen them come to fruition in recent months.. Perth is starting to get some really awesome new venues starting up amidst all the outcry in losing places such as The Bakery and Deville's Pad. We started doing regular nights at Flyrite in July combining the gig with the party, and this month (October 30) we're taking over amps to do the same thing there.. We're pretty excited about it all, and have more developments that are coming in to play real soon.
I've also been putting together a bunch of live shots I've been taking of local bands and those that make the effort to come and tour here.. Aiming to build them into Bad Noose's first print photozine hopefully soon.
Give us some recommendations pal
Here are 5 of my favourite local bands.. all doing very different things genre-wise but share a common factor in fuckin killing it!
Fait
Koi Child
The Others
Hideous Sun Demon
Tangled Thoughts of Leaving
Need we say it but check out more info on upcoming Bad Noose gigs at Flyrite/Amps/Jack Rabbits on the Hipflask app.