Martin E Wills and Outré Gallery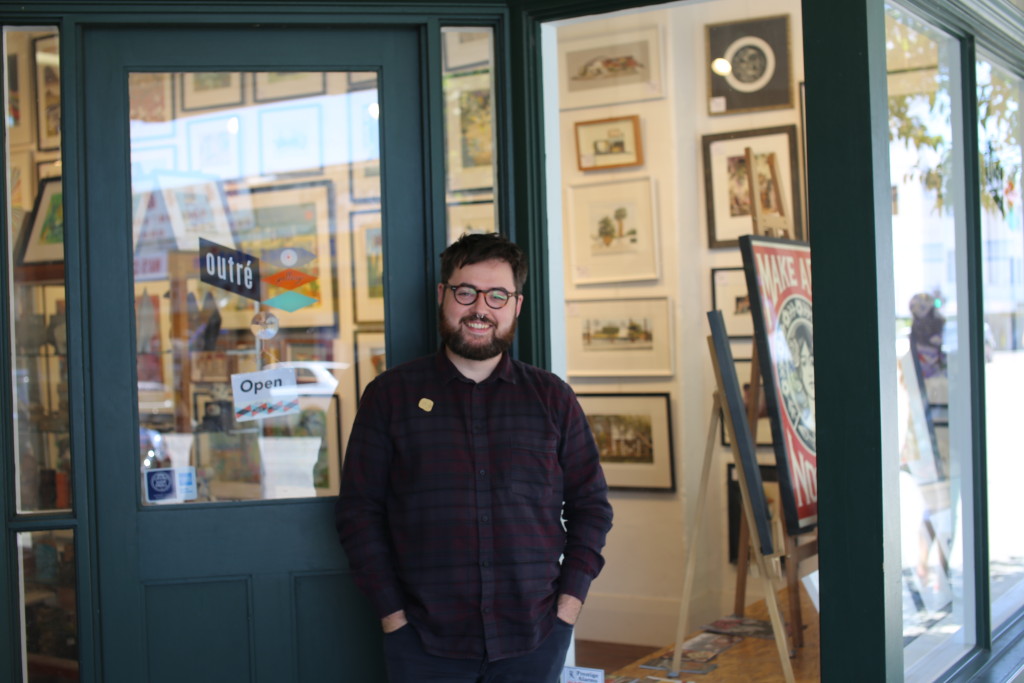 Everyone around Australia loves Outré Gallery, so we sat down with Martin E Wills to talk about the Gallery as well as his own journey over the past few years.
Tell us about Outré Gallery – what sort of work do you represent? Why was the gallery opened?
Outré Gallery opened in Melbourne around 20 years ago and it's been going strong ever since. One of the most frequent questions we received was when we were going to open in other cities. So we did, first in Sydney, then in Perth, and we just announced a new permanent space in Brisbane! There's no where else you can find the kind of work we represent in one gallery space, and we're really proud of the focus our gallery has on a particular kind of work – it's an engaging mix of mid-century and modern, fine art and low-brow, street and pop-surrealist, and we love sharing it. I came to manage the Perth gallery a couple of years ago after working with the existing team at some exhibition openings and then as a casual gallery attendant.
You're an artist in your own right – tell us about yourself?
I'm a visual artist working primarily with paint and digital. A lot of the last 12 months has been painting walls, with a bunch of amazing group shows, and some interesting projects like the new lightboxes in a Highgate alleyway and my first forays in to print making. I work in a style heavily influenced by cinematic concept artists and comic book illustrators and colourists – I similarly attempts to capture moments suggesting narratives that reflect current day concerns (or the denial thereof) regarding consumption, environment, exploration and mortality.
Does being an artist change the way you have run your gallery?
I guess that firstly, it's given me a chance to curate shows featuring some excellent local talent, like Amok Island's "Endemism", Jessee Lee John's "Escape Plan" and before that the Loco Locals group show with Kyle Hughes Odgers, Sean Morris, Anya Brock, Pari Corbitt, myself and others. At the same time it's given me an insight in to the kind of works the general public really engages with, which has inevitably fed back in to my own work.
Traditionally, artists have been told to approach galleries with portfolios, but of course the internet and sheer number of artists out there has changed things. How do you find most of the artists that you represent?
We have approaches by passers by on a regular basis however we have long standing ties with many of the artists we represent, and outside of that we look for work that is engaging, relatable, beautifully executed and not too similar to work we already carry. We find our artists through our own networks, alongside the internet, magazines, books, exhibition openings, etc. Some times our own tastes can be a little esoteric, so what we love might not necessarily wind up in the gallery. It all depends, really!
Do you think the gallery scene has changed in the last few years? Do you think it will change substantially in the near future?
Perth is in a bit of flux at the moment with some recent gallery closures, however some great spaces have emerged to replace them.
If an artist markets themselves super well, what's the advantage to the artist of having gallery representation? In other words, what can galleries offer an artist for the commission they extract?
It's hard to say – galleries offer access to audiences and opportunities that the artist may not otherwise have. They can be excellent sources of advice on an artists value and help propel their career. They give the artist an opportunity to sell their work without having to worry about marketing it themselves – most artists would prefer to spend their time creating rather than chasing up exhibition RSVPs, for instance. But it does depend on a lot of factors and artists looking at representation need to decide for themselves if it is worth the commission – a gallery should be able to offer a convincing explanation as to why they are.
Martin E Wills:
instagram: @martinewills
Outré Gallery:
instagram: @outregallery